Being Alive and Having to Die: The Spiritual Odyssey of Forrest Church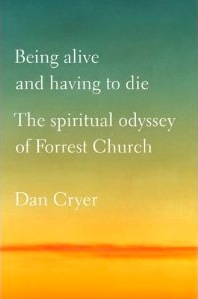 Rev. Forrest Church, the foremost Unitarian Universalist of our time, championed the separation of church and state, and a religion that respected the mind and fostered tolerance. In doing so, this anti-Jerry Falwell often locked horns with the religious right, notably over discrimination against gays and the mistaken notion that the United States is a "Christian nation." He wrote or edited 25 books, from theology to pastoral meditations to histories. "Being Alive and Having to Die" chronicles his journey from rebellious son of a U.S. senator to eloquent spokesman on the national stage.

Bill Moyers: "One of the most intriguing people I have met as a journalist, Forrest Church ... thought long and hard about religion and politics ... wrestled to live an ethical life yet proved as flawed as any of us ... Thanks to Dan Cryer's prodigious reporting, I understand more deeply the sources of his eloquence and the agony of his search. Even if you never heard of Church, you will find this man's pilgrimage worth your time."

Gary Dorrien, Reinhold Niebuhr Professor of Social Ethics, Union Theological Seminary: "This splendid biography is worthy of its sparkling, accomplished, and inspiring subject, capturing the life and bountiful spirit of Forrest Church in rich detail."

Jon Butler, Yale University, author of "Awash in a Sea of Faith": "Cryer's compelling, beautifully wrought biography ... melds politics, family and theology. This is a moving, even transforming book about the central issue Church struggled to clarify -- the very human meaning of life."
William F. Schulz, former executive director, Amnesty International USA and head of the Unitarian Universalist Service Committee: "Forrest Church pulled no punches when it came to his own foibles. Dan Cryer doesn't either. By virtue of his candor, Forrest made himself far more accessible to people while he lived. Cryer has done the same thing for us now that Church is gone."
Cornel West, Princeton University, author of "Race Matters": "Forrest Church was a great prophetic voice and grand public intellectual. This book helps preserve his precious legacy!"
Susan Jacoby, author of "The Age of American Unreason": "Dan Cryer's penetrating, fair-minded biography ... offers a portrait not only of a fascinating religious intellectual constantly confronting his own demons but of the best traditions of liberal American Protestantism, which uphold the separation of church and state and liberty of conscience for all. It was Church's fate to live out his ministry during the decades when the religious Right has attempted to convince the public of the lie that America was founded as a 'Christian nation.' Church stood against that lie and Cryer presents a compelling case of both the man and the times, with much to offer atheists as well as religious believers more interested in questions than answers."